FISH (Friends in Schools Helping) Mentor Program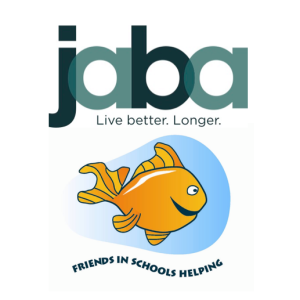 Organization Name
JABA Jefferson Area Board for Aging
Contact Name
Teresa Cooper
Mentor Preschool to High School Students - Online or In-Person
Gift a student an hour of your time by working with children who need extra support, emotionally or academically.
FISH (Friends in Schools Helping) volunteer mentors work under the supervision of a teacher in a classroom setting to provide individualized attention to students, either one-on-one or in small groups, or virtually, one-on-one with a student, with the support of the parent. Volunteers help students improve motivation, self-confidence, and socialization while assisting with academic subjects. After new mentor training (one 3-hour session) in September, JABA (Jefferson Area Board for Aging) places volunteers based on school or family needs, volunteer interests, and location preferences. Volunteer Mentors commit to 1-2 hours per week during the school year.
In-person placements include public schools in Charlottesville, Albemarle, Greene, Nelson, Louisa and Fluvanna counties and will be done primarily during school hours. Having transportation to the schools is an asset for in-person mentoring.
Online options will be through Zoom or Google Meet, one on one. Online mentoring is usually done in the evening or on weekends.
JABA's FISH Program has supported District 10 in VA for 20 years.
Bilingual volunteers are strongly encouraged to apply. There is a need for mentors who speak multiple languages to help English Learner students.
To learn more about FISH or to submit an application, visit https://www.jabacares.org/fish
For more information, contact the Volunteer Services Coordinator at [email protected]
Training is virtual or in-person and will be held in mid to late September. All prospective volunteers must go through an application process including interview, reference, and background check to ensure the safety of our students.