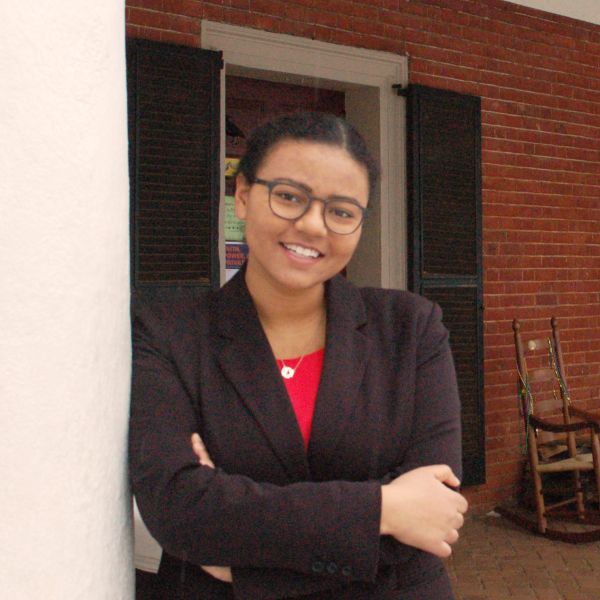 Virginia Chambers
Virginia is a second-year Government major in the College of Arts & Sciences. She is a Tom Tom Founders Festival Food and Workshop Fellow and member of the Charlottesville Area Transit (CAT) Advisory Board. Read on to hear more about her involvements at the University and in the community.
What lead you to getting involved with the Tom Tom Festival as a community partner?
I saw a blurb about applying to be a fellow at Tom Tom last spring after having seen some information about Tomtoberfest (our smaller festival in September). I knew I wanted to get involved with organizations off Grounds, and I thought this would be a neat opportunity to work with a cultural nonprofit in the city.
What has been the most rewarding aspect that comes with your community involvements?
It's incredibly rewarding to go to random events around Cville and see people I met at a City Council meeting or through Tom Tom. It makes me feel like a real resident of the city, not just a student at UVA.
How do you expect to be involved in the community in the future? What's your #CommunityCommitment?
My #CommunityCommitment is to maintain an involvement with the Cville community every semester, whether through an internship, the CAT advisory board, or consistently attending City Council meetings. I want to get off Grounds and into Cville at least once a week!
How would you encourage others to get involved?
I would encourage people to read CVILLE Weekly, an independent newspaper in the city. It spotlights a number of cool events around town which can be an easy entrance to exploring and becoming more involved with the city.
Where is your favorite UVA tradition and why?
My favorite UVA tradition is Trick or Treating on the Lawn. I adore Halloween already, and it's so much fun to see so many children (and even some parents!) dressed up. I love that UVA and the community come together around such a fun holiday.