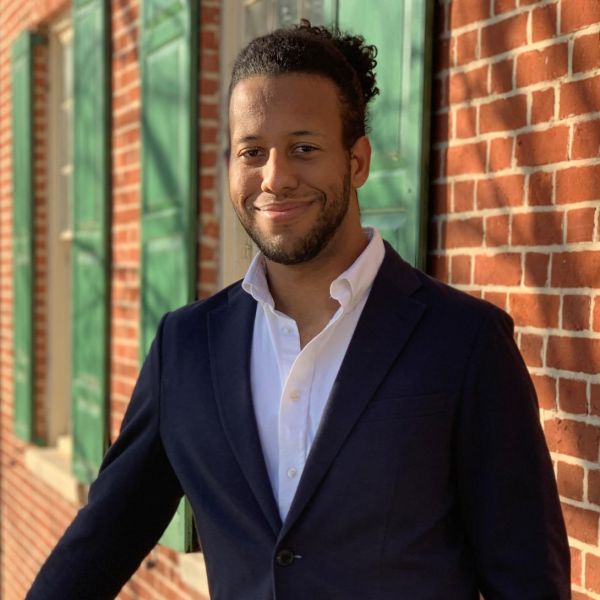 Tim Brown
Tim Brown is a second-year prospective commerce student and serves as the president of the UVA Student Veterans of America (SVA) chapter. The SVA is a CIO that plays three key roles: it serves as a community for student veterans on Grounds, it liaises with the UVA administration on behalf of student veterans, and it is a platform for veterans to continue their passion for service after they have left the military. Tim is also an analyst at the McIntire Investment Institute and plans to pursue a career in the financial services industry.
What led you to your service work?
My time in the military laid the foundation for the service work I engage in. I was a Navy Corpsman (medic); it's a job where you are constantly thinking about the health and well-being of the sailors and Marines in your charge. My role as the SVA president is very similar; I'm constantly thinking about what my team and I can do to ensure student veterans are taken care of so that they can focus on their studies. My role allows me to look inward to serve the veteran community and outward for opportunities where my fellow veterans and I can serve on Grounds and in the greater Charlottesville community. I find both equally rewarding.
How were you involved with the opening of the new Veterans Student Center?
My predecessor, Thomas Doyle, along with critical advocates like Dean Sauerwein and Professor Jeff Lovelace, did most of the heavy lifting long before I even matriculated. I had the pleasure of coming in teed up and handling the execution. I was involved in the fun stuff, like designing the floor plan, picking out the technology, figuring out the programming, and, finally, speaking at the opening alongside President Ryan and Dean Sauerwein.
There is still a lot of work to be done. With the space now open, we're starting to see how it is being utilized, which will guide our future decisions. I feel a lot of pressure to get things right since the space serves as a home away from home for my peers. As veterans, we're a community with needs that are often unique compared to other traditional students. With the space, the University has done a great job recognizing that and given us a lot of authority.
What has been the most rewarding aspect that comes with your community involvement?
I find it extremely rewarding to watch our community come together and execute when it matters most. The drawdown in Afghanistan has been tough to process, especially after the losses we suffered. We channeled all of those emotions into our refugee donation drive, which was highly successful, raising nearly $7,000 and 200 pounds in physical donations.
It has also been encouraging to see how supportive the Charlottesville community has been of our cause. Several of our initiatives were supported by people and businesses who are not affiliated with the University. In August, we collaborated with local restaurant Three Notch'd Brewery to brew the "Never Forget APA" in commemoration of the 20th anniversary of 9/11. I never would have thought that getting down and dirty brewing beer would have been part of my college experience; it was remarkable.
How has the COVID-19 pandemic affected your involvements? Has your definition of service remained the same?
The pandemic definitely put a damper on our engagements; it brought morale down, and there was almost nothing we could do about it. We focused most of our efforts on keeping spirits high and put some of our projects on pause. Now that it feels like things are improving, we're back in full swing.
I wouldn't say the pandemic has changed my definition of service; it has motivated me to do more. COVID-19 highlighted a lot of issues in our community that were being overlooked.
Like many others, I've also put a higher priority on my mental health. These days, I think twice about every time commitment I make and give myself more time away from anything that has a screen or makes noise.
How would you encourage others to get involved?
I think everyone has to find their niche. If you are serving people you genuinely care about or alongside them, it's effortless. Grab a group of friends and find something to improve, whether it's a small act that makes someone's day better or something more ambitious. Serving others usually provides an opportunity to bond, learn, and grow; isn't that what we're all here for?
What has been the greatest class you have taken at UVA?
The greatest class I've taken at UVA so far was my ENWR with Professor Corey Shaman. While the focus of the class was writing about citizen science, we spent most of the course practicing the art of inquiry, specifically how to ask the questions that take you down the rabbit hole. The papers I wrote in his class inspired a lot of my work with the Veteran Student Center and as SVA president.
What is your favorite UVA tradition?
As a nontraditional student, I would have to say my favorite UVA tradition has to be the secret societies. Before coming to UVA, I had no idea that secret societies at universities were a thing. I remember how excited I was after discovering them and the hours I spent reading about their histories. We recently received a mystical letter from the Z Society congratulating us on the opening of the Veteran Student Center; we were very thrilled about it.
Additionally, my girlfriend (a fellow Hoo and student veteran) and our black lab named King are very fond of picnics and frisbee games on the Lawn.
If you could do one thing to make the world a better place, what would it be?
I think humanity would benefit significantly from a shift towards a more open-minded, empathetic way of thinking. I'd love to find a way to have people disassociate their identity from their opinions and beliefs. The military forced me to surround myself with people from all walks of life and experience many different cultures. I learned how to get along with people I fundamentally disagreed with and care for them like a brother or sister. I think what made it all possible was our common ground. As a species, we need to figure out a way to find common ground amongst ourselves; only then can we effectively tackle the big problems like climate change and inequality.