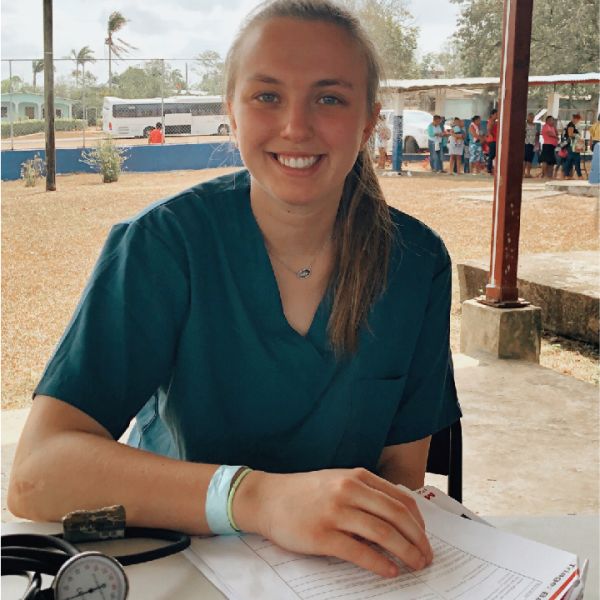 Rebecca Franks
Rebecca Franks (she/her) is a fourth-year in the College of Arts & Sciences majoring in Neuroscience with a minor in Bioethics. For the past three years, Becca has served as the Madison House program director for Charlottesville Area Riding Therapy (CART), a therapeutic horseback riding program for children and adults with physical or intellectual disabilities. Becca is also a volunteer EMT with the Charlottesville-Albemarle Rescue Squad (CARS). At CARS, she responds to 911 calls in the Charlottesville-Albemarle area, proving medical care and transport to the hospital. Lastly, Becca volunteers at the Charlottesville Free Clinic. Next year, Becca will be returning to Texas for medical school.
What led you to your service work?
Coming to UVA, I wanted to find unique service opportunities that pushed me out of my comfort zone. Although I didn't have any previous experience working with horses, I heard about Charlottesville Area Riding Therapy from a friend. The program seemed like a unique way to improve physical, emotional, and social wellbeing outside of the traditional clinical setting. Over the past four years, CART has introduced me to a new way of serving the community to improve overall health.
What has been the most rewarding aspect that comes with your community involvements?
Volunteering with CARS has definitely helped me to integrate myself within the larger Charlottesville community. When I first arrived at the University, my life in Charlottesville existed within a three-block radius of Central Grounds. Working with other students and community members, interacting with various healthcare professionals, and serving a diverse patient population, I've been able to meet so many wonderful people.
How would you encourage others to get involved?
Be willing to try anything once. If your friend is involved in a cool program or if you see a flyer for an interesting event, just try it out. Expose yourself to a wide range of experiences, but don't be afraid to admit if something isn't the right fit for you. It's okay to prioritize your own health and happiness. Don't spread yourself too thin or do something just because it would look good on a resume. There's so many ways to get involved, so take the time to find a program or two that you love!
What would people be surprised to learn about you?
Although I help students ride horses at CART, I actually don't know how to ride horses – or how to ride a bike. But, my friends are determined to teach me before we graduate.
What is your favorite spot on Grounds and why?
My favorite spot on Grounds is the Amphitheater. I love grabbing food with friends and doing homework here on a nice day.
What is a book or movie you would recommend?
Recently, I watched the documentary "LFG." It features several players from the U.S. Women's Soccer Team as they fight for equal pay. I definitely recommend!
If you could do one thing to make the world a better place, what would it be?
If I could change anything in the world, I would make sure everyone has access to healthcare. Volunteering with CARS and working in the emergency room, I've seen the burden placed on patients and their families when they don't have access to high quality, affordable primary care. As I begin a career in medicine, I want to continue to find ways to reduce health inequity in the United States.