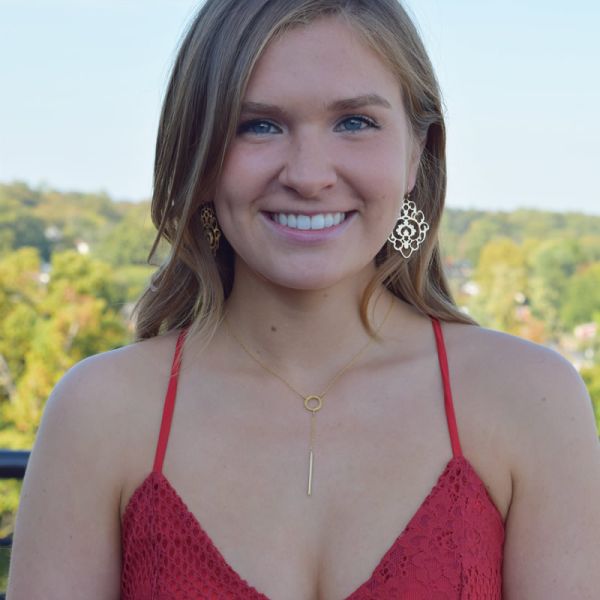 Quinn Funston
Quinn Funston is a third-year in the College of Arts & Sciences, double-majoring in biology and French. She is the Tri Delta Body Image Coordinator and has been involved with UVA's Pancakes for Parkinson's in a number of ways, as a volunteer and dorm representative, fundraising member, and this year's Head of Fundraising.
How did you first get involved?
I was head of service league in high school, which inspired me to do more service work at UVA, but Pancakes for Parkinson's (P4P) has a special place in my heart. My dad, Lance, was diagnosed with Parkinson's six years ago, and it has impacted not only his life, but my family's life in so many ways. Being involved in P4P was a given when I got into UVA three years ago. I signed up to be a volunteer and dorm representative my first year, was a member of the fundraising committee last year, and this year, I have the honor of being head of fundraising with my amazing co-chair Owen Baughan!
What has been most rewarding?
The most rewarding aspect of being involved with P4P is seeing not only the UVA community but the entire Charlottesville community come together for a cause that means so much to P4P's members. Last year, my dad was able to attend the event, and to see the tears in his eyes at all of the work that went into the event and the accomplishments we made was an unbelievably emotional moment—one that I hope to experience again this year.
What is your #CommunityCommitment for next year?
My #CommunityCommitment would be to be head of P4P next year. It is a challenging role, but a role that comes with unimaginable rewards for the community and at large for finding a cure for Parkinson's disease. I want to give our community a reason to be inspired and show that hard work is always worth fighting for a cause that will affect people not only locally but even worldwide.
How can others get involved?
I would encourage others to get involved in the community by saying that it starts with something small. One small impact you make, whether it's picking up a piece of trash, helping a first-year find a class, or just talking to a friend in need, makes a difference. You don't need to do something extravagant to make a change in someone's day, which ultimately impacts the community as a whole.
Who has inspired you at UVA?
Two people at UVA who have inspired me are Gabby Beard and Caroline Keller, the heads of P4P this year. It may sound cheesy, but they seriously are my inspiration to do what I do. The time, effort, and passion that they put into P4P is overwhelmingly impressive, and it seriously encourages me to put forth my best self everyday.
What is your favorite place to eat on the Corner?
Corner Juice and Juice Laundry (two of our P4P sponsors this year :))
If you could do one thing to make the world a better place, what would it be?
I recently interviewed my dad for P4P, and he said, "I have Parkinson's, but Parkinson's does not define me." This made me think about the fact that even in times of despair, you can find hope and gratitude. If I could do one thing to make the world a better place, I would probably encourage everyone to participate in mindfulness and think of at least one thing a day that they are grateful for. I think that sometimes we get caught up in all the tragedies of the world that we forget to stop and think about the impactful and joyous moments in our lives.