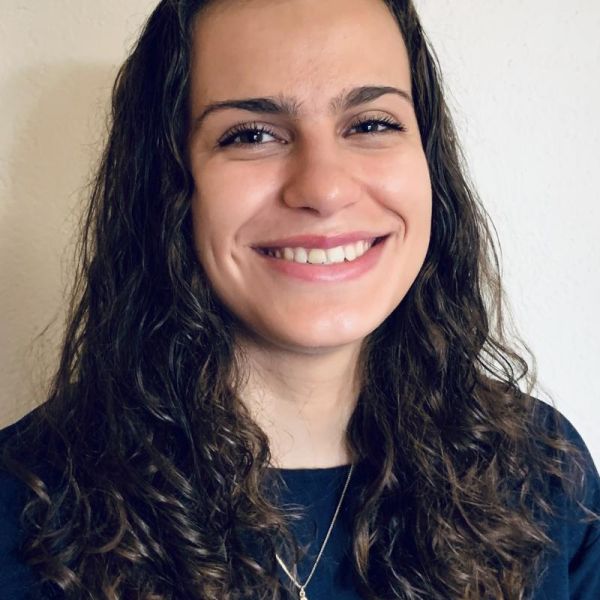 Olivia de Cuba
Olivia de Cuba is a second-year in the biomedical sciences graduate program (BIMS) in the School of Medicine pursuing a PhD in biophysics. She is a coach at the First Tee of Virginia Blue Ridge. The First Tee is an international youth development organization that integrates the game of golf with a life skills curriculum. After UVA, Olivia hopes to continue to make a difference in the lives of young people through sports while carrying on her research in bacteria and human disease at a molecular level.
What led you to your service work?
Sports have played a pivotal role in my life, and I learned firsthand the benefits of having a dedicated and caring coach that not only wants to see you improve your athletic skills, but also grow as a person. My first experience as a coach was in high school when I became the assistant coach for my school's coed under-12 soccer team. I soon realized that I enjoyed coaching, and while playing college golf, I became involved with junior golf programming. When I moved to Charlottesville, I knew I wanted to be involved with the First Tee because of the program's commitment to making the game more accessible and welcoming for juniors by delivering programming to kids of all backgrounds in a variety of settings. I also think golf is exceptionally well suited to teach life skills and core values that help young people grow personally.
What has been the most rewarding aspect that comes with your community involvements?
The First Tee program encourages coaches and participants to build lasting bonds. Especially during the pandemic, it has been incredibly rewarding to interact with the kids and hear about their lives. Being able to combine my love of sports while watching children develop under my guidance is a gift I am most grateful to receive.
How has the COVID-19 pandemic affected your involvements? Has your definition of service remained the same?
The pandemic forced me to reassess the role of golf in my life; I was graduating from college and preparing to move to Charlottesville for grad school. Golf was one of the first things that reopened after lockdown and I was asked to coach some of the summer camps in my area. I had a lot of fun during these weeks, and I recognized that even though I may no longer want to play competitively, the game of golf has taught me a lot, and I had an opportunity to share my experiences to positively impact the lives of young people. At the time, I had also been a "Ready2Help" volunteer with the Red Cross for over five years and supported the local efforts of the Red Cross on several occasions. Although my definition of service has not really changed during the pandemic, I have grown to recognize that it is truly a privilege to serve. Whether I am coaching kids or checking in with local senior citizens, I am making a health decision that can impact me and the rest of my household. At the same time, the pandemic has also shed light on how many people want to lend a helping hand to their community and on the many ways to give back.
How would you encourage others to get involved?
Someone told me that there are well over 1,500 nonprofit organizations in the greater Charlottesville area. I don't know if this number is accurate, but I do know that there are a lot of opportunities to get involved whether it is through a student organization or another (national or local) program. Consider what truly matters to you, that's how you'll be able to make the most meaningful contribution.
What has been the greatest class you have taken at UVA?
My favorite class at UVA was Nanoscale Imaging with Andreas Gahlmann. I took this class while I was still rotating in different labs to figure out which lab I wanted to join. I thoroughly enjoyed combining my interest in biology, chemistry, and physics to learn about image formation and super-resolution microscopy. I eventually joined the lab of Andreas Gahlmann, so my interest in these topics have since extended well beyond the classroom.
What is your favorite UVA tradition?
Since I moved here during the pandemic, I feel like I'm yet to experience a number of UVA traditions. Generally, I enjoy walking around Grounds and hanging out with friends on the Lawn, so I look forward to experiencing Lighting of the Lawn for the first time!
If you could do one thing to make the world a better place, what would it be?
Improve access to lifesaving medicine and healthcare.