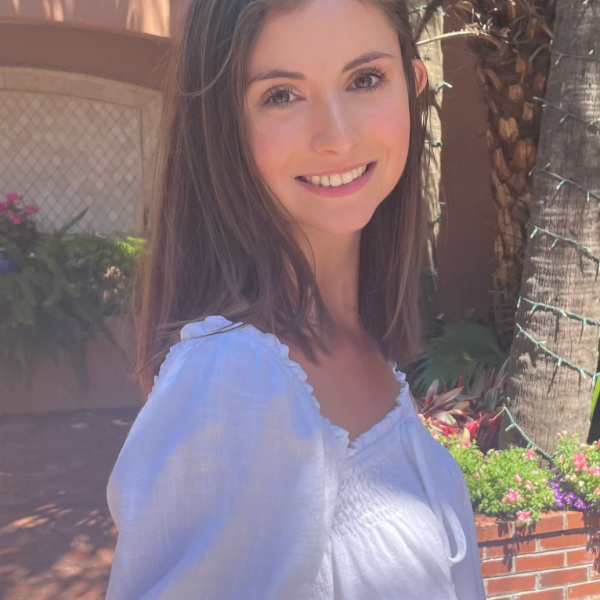 Nina Robertson
Nina Robertson is a fourth-year in the College of Arts & Sciences majoring in global public health. Nina serves as the Madison House program director for Adopt-A-Grandparent (AAGP) at Charlottesville Health and Rehabilitation Center (CHRC), through which she works with elderly residents and other student volunteers to facilitate healthy connections and bonding experiences. Nina also volunteers on the Madison House HELP Line outreach team, a 24/7 free and confidential cries hotline run by students. In addition, she is a research intern at the Treatment Advocacy Center (TAC), a national nonprofit that aims to eliminate barriers of treatment for individuals with severe mental illness.
What led you to your service work?
I began actively volunteering in nursing and residential care centers in high school and knew I wanted to continue this kind of work at UVA. I love connecting with community members! Many residents at CHRC attended or worked at UVA and have been Albemarle County residents their whole lives. I am also extremely passionate about mental health and advocacy to destigmatize these topics that affect individuals' everyday lives. HL and TAC combine many of my passions while allowing me to interact with the public in a call-to-action format.
What has been the most rewarding aspect that comes with your community involvements?
Interacting with so many incredible people who also share my same passions has allowed me to appreciate this community on a deeper level. Meeting individuals who I would not have otherwise has positively changed my perspective at UVA. I know that when I graduate I will have contributed to the Charlottesville community through my involvement.
How has the COVID-19 pandemic affected your involvements? Has your definition of service remained the same?
The COVID-19 pandemic did not drastically change my involvement with HL, as outreach volunteering was able to continue through a virtual, social distancing platform. AAGP was online for the 2020-2021 academic year, but FaceTime calls and letter chains kept a strong connection with residents at CHRC. Now AAGP is volunteering in person again this year! Through these ups and downs, I have learned that service extends in a variety of outlets but with the overall goal of ensuring kindness within the community.
How would you encourage others to get involved?
Go to the Student Activities Fair or reach out through email! Find something you are passionate about and just test it out. Throughout my four years, I have switched my commitments a lot, but volunteering has always remained a key point! Reaching out and getting started is half the battle, there is so much pride in connecting with community members and others!
If you find that your organization wants an information session by UVA HelpLine, you can register here: https://linktr.ee/helplineuva.
What has been the greatest class you have taken at UVA?
Introduction to the U.S. Health Care System (GNUR 5390) by Professor Rick Mayes. This class fully encompassed a working knowledge base on U.S. health, public health, innovation, policy, and health promotion. Everyone should try to take this class regardless of their major because there are so many real-world applications and things you should know just by living in the U.S.
What is your favorite UVA tradition?
My favorite UVA tradition is singing "The Good Old Song." There is so much to celebrate at UVA, and this song encapsulates it all. It is a contagious way to spread joy and togetherness in the UVA community.
If you could do one thing to make the world a better place, what would it be?
I would ensure that everyone who interacts with me knows they are valued by actively engaging with one another. Whether this is simply waving a hand in passing or sitting down to hear what is on their mind, these simple actions of kindness can go a long way. Supporting and validating one another expands community togetherness.