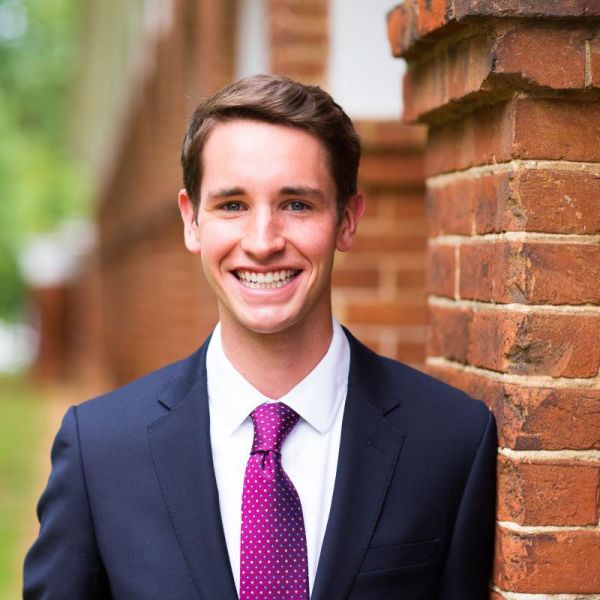 Matt Tully
Matt Tully is a fourth-year in the Frank Batten School of Leadership and Public Policy, double-majoring in Public Policy and Leadership and Economics. Matt is the Logistics Committee Co-Chair for Pancakes for Parkinson's and has been involved with the charity event for over three years. He is also a mentor through the Bridging the Gap program in Madison House and a member of the External Committee of the Batten Undergraduate Council.
Why did you get involved with Pancakes for Parkinson's?
I immediately decided to get involved with Pancakes for Parkinson's (P4P) when I saw their table at the activities fair my first year. A family friend, someone who I have a tremendous amount of respect for, was diagnosed with Parkinson's Disease about eight years ago. I've seen how it has affected him and those close to him, and I wanted to be a part of the effort to find a cure, in whatever small way I could. After three and a half years of involvement with P4P, I can absolutely say joining the team has been one of the best decisions I've made during my time at the University. Everyone involved with P4P is so passionate and works so hard to put on a great event each year. The friends I've made, fun we've had, and impact we've made have been incredible.
What has been the most rewarding aspect of volunteering with P4P?
The most rewarding aspect of being involved with P4P has definitely been meeting those individuals with Parkinson's at each year's event. We spend all year preparing for this big event, so getting to speak with the people who it's all ultimately for, and seeing how much joy our event brings them, is so rewarding. And of course, who doesn't love pancakes on the Lawn with the UVA community; being able to help create an event for the community to come together is really nice, too.
How would you encourage others to get involved?
I would definitely recommend everyone, especially first-years, to sign up to volunteer! The event couldn't go on without the 200+ volunteers making pancakes, collecting trash, and collecting donations, so if anyone is remotely interested, volunteering is a great way to not only enjoy the event, but also to give back in some way. UVA students are so busy, so volunteering is a great way to make an impact in a low commitment way. After that, join the Exec Committee and help make the event better the next year!
What's your favourite study spot on Grounds and why?
I love studying in Garrett Hall. I'm in Batten, so I've spent countless hours in Garrett and made a lot of friends over our late nights there. Batten is also always hosting guest speakers who have incredible experiences, so I'm always able to grab a meal and learn something new.