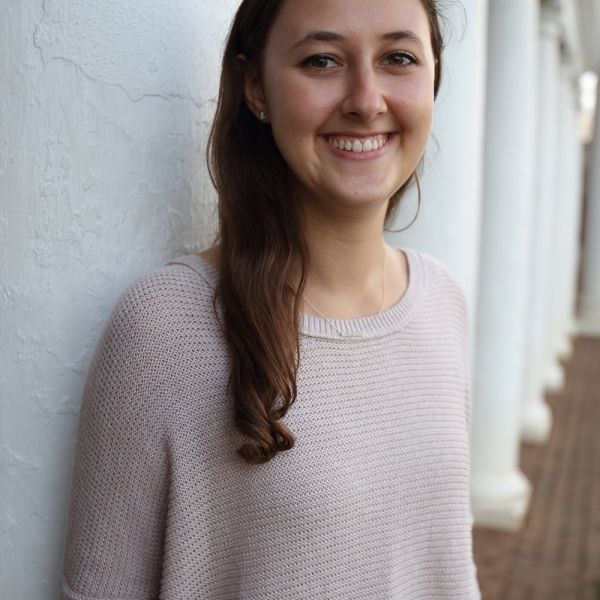 Kayla Spigelman
Kayla Spigelman is a second-year in the School of Engineering and Applied Sciences studying systems engineering. She is passionate about science and sustainability, participating in the Society of Women Engineers, where she helps with the Girl Scout Day each year to inspire young girls to pursue careers in STEM. Spigelman is the community outreach chair of FoodAssist, an organization that aims to bridge the gap between food waste and food insecurity by delivering leftover food from Greek houses to other organizations in the community that need food. She also is involved in the Jewish community and tutors middle school kids for their bar and bat mitzvahs and loves volunteering through her sorority to assist with Alzheimer's awareness and at the Martha Jefferson House.
How did you get involved?
Food has always been an important part of my life growing up; we always had special food on holidays which reminded me of good times spent with family and friends. I was upset when I learned about the extent of food insecurity in my own neighborhood at home in South Florida and wanted to do something about it. I began hosting food drives each year beginning in seventh grade and advocating for hunger awareness in my community. Because I feel so passionately about the cause, FoodAssist became my way of staying engaged with the issues of food waste and food insecurity. Additionally, being able to provide meals for people who do not know when their next meal might come fills me with a sense of comfort and gratitude.
What has been most rewarding about your involvements?
Being able to personally deliver food to people in need in the Charlottesville community warms my heart. Every week, the other FoodAssist members and I have the honor of being able to greet kids at the Computers4Kids afterschool center with a warm meal. They stand at the door with huge smiles on their faces excited for the food. To me, it is the person-to-person interaction that means the most.
How do you expect to be involved in the community in the future? What's your #CommunityCommitment?
I am committed to continuing my volunteer efforts with FoodAssist and am looking to broaden our impact in the Charlottesville community and beyond. I hope to increase the number of organizations FoodAssist receives from and provides to. I am always inspired when I read about new startups implementing innovative techniques to mitigate food waste. I hope that in the future, I can work for a company which upholds the same ideals and values as I do, in terms of sustainability and issues surrounding hunger.
How would you encourage others to get involved?
Just try out new clubs or get involved in organizations which help causes that you are passionate about. Even if it turns out to be something you do not want to commit to, you never know what kinds of people you'll meet. They most likely will have the same interests as you and can help lead you in the direction you want to go
What has been your favorite class at UVA?
For my Global Sustainability minor, I was able to take the class "Religion, Ethics, and the Environment," which was one of the most intellectually stimulating classes for me. Religion and ethics have always been subjects that have intrigued me, and to be able to see the interconnectedness between those subjects and the environment just opened my eyes to so many new perspectives and interpretations of the world. From issues ranging from animal rights to environmental stewardship, I was able to find meaning in what we learned and apply it to my own philosophies of how I hope to live my life.
What is your favorite UVA tradition?
Although Lighting of the Lawn is probably my favorite school-wide tradition, I would also have to say that painting Beta Bridge is also a special but underrated UVA tradition. Walking by Beta Bridge always puts a smile on my face because it promotes all of the good things that are happening at UVA and is an easy way to keep everyone in the loop. The fact that thousands of layers of paint are hiding under each announcement shows the fast paced and multidimensional aspects of student life at UVA.
If you could do one thing to make the world a better place, what would it be?
I would make sure that every person who wants to be educated has the opportunity to do so. I think education is one of the most valuable tools because education provides people with the opportunity to feel empowered to do whatever it is they dream of doing. The disparity between the number of people who have access to education and the number of people who do not seems unfair. The world would be a better place if every person had the opportunity to obtain the skills needed to fulfill their wildest dreams.