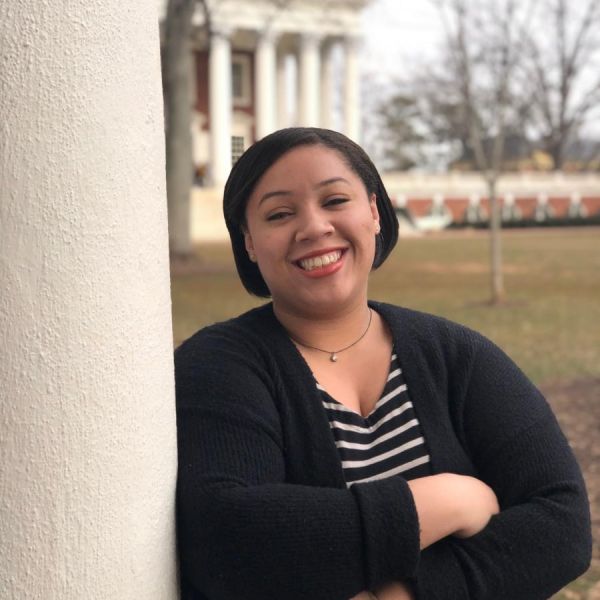 Janee Murray
Janee Murray is a fourth-year in the College of Arts & Sciences double-majoring in Foreign Affairs and History. Janee is involved with the University's service fraternity, Alpha Phi Omega; volunteers with both Madison House and the Jefferson School African American Heritage Center; and has been recognised by Student Council as a Service Scholar.
How did you first get involved?
I have always loved volunteering. My family was very involved with the community when I was growing up, and I've found that it's a great way to meet new people and learn new things. I love that volunteering brings a sense of community. Charlottesville has come to feel like home because of the many experiences I've had through service. Getting involved turns a place from somewhere you inhabit to somewhere you belong.
What's your #CommunityCommitment this year?
I'm currently training to become a docent with the Jefferson School here in Charlottesville and look forward to discussing the many ways the community has changed throughout history. After graduation, no matter where I end up, it will be a priority of mine to find ways to get involved and make my community feel like home.
How can others get involved?
It's too easy for students to get trapped in the UVA bubble and not participate in the world around them. To combat that, students should be aware of the issues prevalent in the community and the organizations that work to counter them. We all need to become more cognizant citizens. With awareness comes the inspiration to get involved.
What is your favorite UVA tradition?
That has to be a tie between Trick-or-Treating on the Lawn and Lighting of the Lawn. I love how these events bring together students and the broader Charlotesville community. They are reminders that we as students are a part of a greater community.