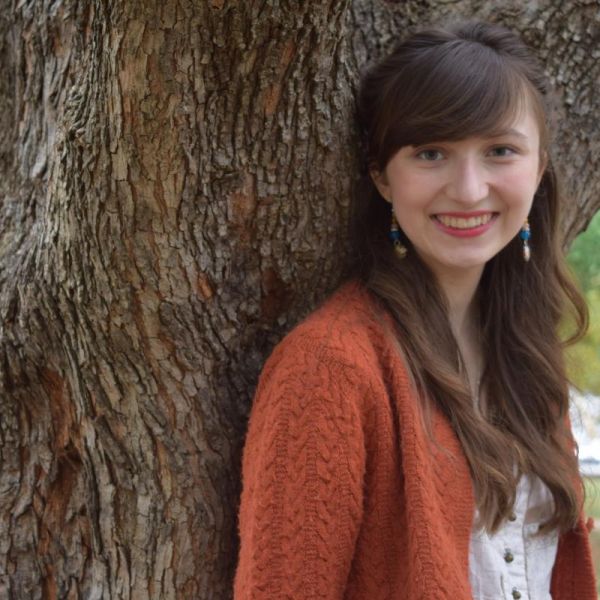 Emma Camp
Emma Camp is a second-year from Birmingham, Alabama, studying English and Women Gender and Sexuality Studies with a minor in Philosophy. Emma was an actor in Grounds For Discussion last year, and will be directing GFD's upcoming production this August. GFD is a show produced by Orientation and New Student Programs that uses a series of scenes and monologues to show incoming first-years some of the challenges they may face as new college students. GFD discusses everything from roommate conflict to eating disorders and abusive relationships, and it gives students the tools to approach these challenges – including education on the variety of resources UVA has available to help them.
How did you first get involved?
I did a lot of volunteering in high school, but I didn't do much community-centered service work in my first semester of my first year. However, I ended up really missing it, so I started working with Charlottesville Debate League, which offers free debate instruction and tournaments to middle and high schools in the Charlottesville area. I've really enjoyed my time in CDL, and it gave me a good skill set to work as a Counselor at Alabama Girls State the summer after my first year. I found out about Grounds For Discussion auditions after being kindly badgered by several former GFD cast members and decided to audition on a whim. GFD was a really wonderful experience for me, which is why I was so eager to direct the show for the Class of 2024!
What has been most rewarding?
I really enjoyed my experience acting in Grounds For Discussion last year – I felt like the show was tangibly helping to facilitate tough conversations in a way that could be approachable for all new UVA first-years. Knowing that I was a part of something that could normalize tough conversations and give validity to the variety of mixed emotions new college students experience was incredibly rewarding.
How do you expect to be involved in the community in the future?
I'm really excited to begin working on Grounds For Discussion this summer. I loved being a part of it least year so much, and I can't wait to be able to have deeper involvement with it. I've wanted to get more experience directing for a while now, so I'm really looking forward to working with our wonderful actors and updating the script to be even more applicable and helpful to incoming first-years.
How would you encourage others to get involved?
I would first think about what you're most excited about – whether it's theater or debate or sports – and then look for community engagement programs that focus on those areas. I think it makes volunteering so much more valuable when you're sharing something about which you already care deeply.
What has been the greatest class you have taken at UVA?
Feminist Philosophy with Prof. Elizabeth Barnes. I'm a philosophy minor, so this class was a perfect blend of my academic interests. Prof. Barnes is fantastic, and class discussions were always super engaging and really expanded my understanding of the material. I took this class this past spring semester, and after COVID-19 hit, she took the time to meet with me every week to discuss class lectures, which was pretty incredible and left me with a really personalized experience of the class. Also, there were usually dogs somewhere in the Zoom call, which is always delightful.
What is your favorite UVA tradition?
Trick-or-Treating on the Lawn! I sew as a hobby, and it gives me the perfect opportunity to meander across the Lawn in whatever monstrosity I have created that year. Also, I'm a member of the Jefferson Society, and I love handing out candy from Room 7!
If you could do one thing to make the world a better place, what would it be?
Assuming this is a magical scenario, I would want to eradicate cholera from the world. It's a terrible disease that kills so many people, mostly in the developing world, and many of them young children. I think it's an action that could likely bring about some of the most good for the most people.