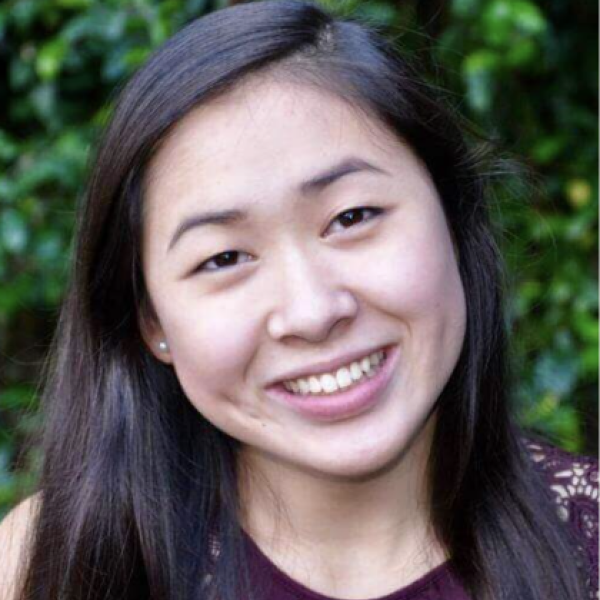 Annie An
Annie An is a fourth-year human biology and biostatistics major in the College of Arts & Sciences. Annie's involvements include working as a medical scribe in the UVA Emergency Department, helping to organize Take Back the Night, and volunteering with VISAS (Volunteers with International Students, Staff, & Scholars). Annie also is on the Peer Health Educators (PHE) leadership team and recently helped co-organize the 30th Annual Fourth Year 5K (4Y5K), whose proceeds go to the Leslie Baltz Art Study Fund.
What led you to your service work?
I have always valued connecting with and serving others, especially in ways that promote health and wellbeing for historically marginalized groups. Learning about the ways in which social determinants dictate health outcomes in my public health classes made me realize that there were immediate spaces where I could empower my own peers to make informed health decisions and point them towards inclusive and non-judgemental resources. Throughout my time as a PHE, I have been lucky to connect with my peers in a meaningful way, through health promotion or just simply being an ally for diverse identities.
What has been the most rewarding aspect that comes with your community involvements?
The most rewarding moment was running the 4Y5K we organized, amongst students and community members who all came together bright and early on a Saturday morning. Through avenues such as this one, service has always been a refreshing way to focus my energy on others, especially in striving for gender inclusivity and financial accessibility as we did in this year's race. It has been immensely rewarding to connect to peers and the Charlottesville community alike, as we as students are guests here for only four short years.
How has the COVID-19 pandemic affected your involvements? Has your definition of service remained the same?
Working in the emergency department as a scribe, I saw firsthand the increased burden of the pandemic on nurses and doctors. This made my involvement with PHE in health promotion, especially through preventative measures, all the more important. However, the pandemic has also opened up service opportunities that previously did not exist. For example, I was able to serve as a language and classroom consultant through VISAS (Volunteers with International Students, Staff, and Scholars). We used Zoom to consistently practice English language skills with international graduate students. However, through it all, my definition of service has remained the same – to seek ways to better people's lives around me in kinder, more equitable ways.
How would you encourage others to get involved?
Try a lot of different things in your first years – the world is your oyster! As you discover involvements that you truly enjoy, narrow down and explore those in more depth. The trick is to give back in a way that also brings you meaning, so you can keep doing it long term! Whatever you choose to do, make sure that you are constantly evaluating if your service is meaningful and focused on improving the lives of others, as opposed to just making you feel good about yourself.
What has been the greatest class you have taken at UVA?
I highly recommend taking Books Behind Bars: Life, Literature, and Leadership. This semester, I have been meeting weekly with residents from the Albemarle-Charlottesville Regional Jail to explore big life questions and concepts of social justice through reading Russian literature. The power of the program is that it is mutually beneficial, as much of my learning has happened through our authentic conversations and the relationships we have built with each other.
What is your favorite thing about the Fourth Year 5K?
The 5K is special because it not only is a great opportunity for community and tradition, but it promotes safer drinking strategies and bystander intervention. COVID-19 made this year's 4Y5K event all the more heartwarming to see the community come together after so long apart. It was cool to see different parts of UVA mingle – from the track and cross country teams to a cappella groups that performed!
If you could do one thing to make the world a better place, what would it be?
Provide free and non-judgemental healthcare (which includes mental healthcare) that prioritizes access for marginalized groups. Our current healthcare system and policies neglect many individual's intersectional identities, which perpetuates healthcare disparities and comorbidities.