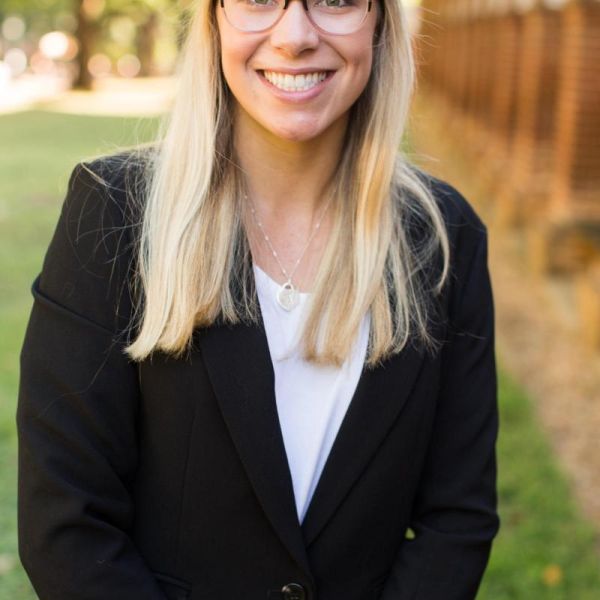 Allie Clarke
Allie Clarke is a fourth-year in the Batten School, studying Public Policy & Leadership and Global Security & Justice. During her time on Grounds, Allie has served as a Chair of ULink Peer Advising and a Director of the Blueprint Leadership Program. She also has been involved with Team One Love as a workshop facilitator and has served on the executive board of her sorority for two years. After graduation, Allie will be moving to Washington, D.C., to work as an associate consultant for Boston Consulting Group.
What led you to your service work?
I have always been drawn to leadership-focused organizations, so ULink Peer Advising and Blueprint Leadership felt like the perfect places to find my footing on Grounds. At the end of my first year, I applied to become a Peer Advisor for ULink and a Peer Leader for Blueprint so that I could give back to future students in the same organizations that helped me grow as a first-year. I fell in love with the people and missions of these organizations, and eventually I transitioned into the roles of ULink Chair and Blueprint Director, which has provided me with an even bigger opportunity to serve other students.
What has been the most rewarding aspect that comes with your community involvements?
For me, the most rewarding aspect of my community involvements has been watching participants and peers grow into themselves. In Blueprint, first-year students work in groups to develop a potential solution to an issue they want to fix at the University, mentored by older students who previously participated in the program. It has been so fulfilling to witness former participants return to the program as Peer Leaders who then thrive at giving back and using what they've learned to assist in the leadership development of other students.
How has the virtual transition affected your involvements? Has your definition of service remained the same?
At the beginning, the virtual transition definitely left an impact on my organizations as we struggled to adapt to the changing conditions. I still find that building meaningful connections with others can be difficult online, but virtual programming has actually opened some new doors, as well. For example, with Blueprint, we have been able to invite speakers from outside the University community to present to our participants in a way that wasn't possible before. The virtual transition has created the opportunity to expand who we connect with and to grow outside of the bubbles we usually exist in. In terms of my definition of service, the pandemic has solidified the idea that we can truly never know exactly what someone else is dealing with, so compassion is more important now than ever – not only in service, but in every interaction.
How would you encourage others to get involved?
Getting involved with service can seem incredibly daunting at times, and I think a lot of students feel this huge pressure to get involved as soon as they arrive on Grounds. There are always opportunities to get involved, so don't worry if you haven't found something yet! My advice would be to find an organization or group (there are over 800 at UVA!) that focuses on something you're really passionate about and join it, even if you don't know anyone. Once you meet people who share your passions, you can build relationships and find out what your peers are involved in, all while doing something you love!
What has been the greatest class you have taken at UVA?
One of my absolute favorite classes I've taken at UVA was called "Women in Islam: The Right to History," taught by Professor Ferial Boutaghou. We learned about historical and contemporary Arab feminism and analyzed the connection between religion, sexuality, politics, and feminism in the Arab world. Professor Boutaghou is amazing, and the class was incredibly enlightening; I would recommend it to anyone passionate about becoming a more informed global citizen.
What is your favorite UVA tradition?
Though I haven't actually participated in this tradition yet, I'm incredibly excited to walk the Lawn with my friends and peers during graduation next month! The first weekend of first year, I began my UVA journey on the Lawn at our Convocation ceremony. After four years of making countless memories, studying and hanging out with friends on the Lawn, I can't wait to come full circle and walk across it in my cap and gown.
If you could do one thing to make the world a better place, what would it be?I
I would make sure that everyone learns about someone or something new every day. The best way to bridge the gaps between people with different experiences and opinions is to understand each other, and I believe that if everyone took steps to do actively learn about the things they don't know, the world would be a better place.